There is a $35 annual registration fee due at the time of registration.
Tuition is an annual amount that is paid in ten installments, due on the 15th of each month beginning in August and ending in May. A $10 late fee will be added to all payments not received by the 25th of each month. Fleetwood Dance Center will only send statements to delinquent or problem accounts.
Accounts that are not reconciled by the 1st of the following month will result in the student(s) being dropped from our rolls, and they will not be permitted to participate in classes until the account is paid and up-to-date.
Returned checks will be charged a $25 fee.
Classes meet once each week at their specified time and date. Studio holidays are based on the Fulton County School System, and holidays have been factored in to the annual tuition. Refunds cannot be given for class cancellations caused by unsafe weather conditions or personal absences. In the case of an illness, students may make up the missed class (talk to your instructor for details).
Tuition payments are due/drafted on the 15th of each month beginning in August and ending in May.
The annual spring recital will be held at the Sylvia Beard Theatre, located in the Buford Community Center (2200 Buford Highway, 30518). The recital is an optional activity and requires the payment of a costume/recital fee. While the decision to participate is a choice left to each dancer, the instructor must be informed no later than the end of January if the student does not wish to perform in the recital.
Class & Rehearsal Etiquette
We encourage your interest in your student's growth and learning experience at our studio, and it is important that this progress not be hindered by pulling focus from the class and instructor. We kindly ask all family and friends to respect the following guidelines:
Please do not enter the studio while class is in progress.
If your student must leave early for any reason, they must notify the instructor before class begins.
If you have questions or concerns, we are happy to listen! The best time to talk with an instructor is after class is over.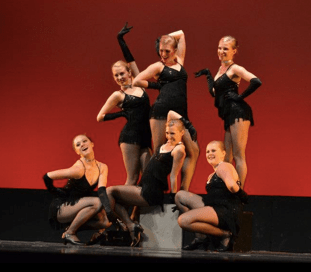 BALLET CLASSES:
Look neat and clean each week. Have your hair in a bun when taking ballet classes.
Ballet Students wear pink tights, pink ballet shoes, and a black wrap skirt.
Each company will wear their company colored leotard. Leotards must be a tank style (no straps showing).
The company leotards are available at dance fashions. Non-Company dancers taking company level classes will wear the company colored leotard.
Company Leotard Colors:
Pre-Professional (ages 17-18) – Black #1002
Mainstage (ages 16-17) – Navy #SL165
Senior (ages 15-16) – Peacock #SL124
Intermediate (ages 13-14) – Eggplant #SL165
Junior (ages 12-13) – Red #1002(Adult) or #1089(Child) Sleeveless Only
Apprentice I (ages 11-12) – Royal Blue #1002(Adult) or #1089(Child) Camisole or Tank Only
Apprentice II (ages 9-10) – Lavender #1089
Apprentice III (ages 8-9) – Light Blue Eurotard #1002, or #1089C
Pre-K through 2nd Grade - Pink Leotard (any style is fine) tutus and skirts are permissible
Boys Attire- Black ballet shoes, white socks, white short sleeve t-shirt, black gym shorts.
For all other classes you may choose not to change from your ballet attire. You may wear biker shorts for all of the classes below. No shorts or gym pants
JAZZ and TAP CLASSES:
Tan tights, solid leotard and have black jazz shoes and black tap shoes (Pre-K – 2nd grade Tap Students – black buckle tap shoe). Character shoes may also be required for jazz or tap. The teacher will determine that during the year.
MODERN, LYRICAL and CONTEMPORARY CLASSES:
Tan tights, solid leotard, and jazz shoes or bare feet. Biker Shorts are permitted.
HIP HOP CLASSES:
Loose t-shirts and leggings or biker shorts. Black split sole hip hop shoes and hair up on the top of the head in a ponytail.